You never told me your name.

Why do you want to know my name?

Because I want to know who I'm looking at.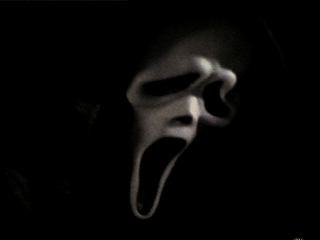 This site was last updated on 17 March 1998.
Scream Image Gallery
Pictures collected from around the 'Net from the movie Scream.
Scream 2 Image Gallery
More pictures, this time from Scream 2.
Scream 3
Updated! Here's the place to read rumours about 1998's Scream 3 or submit your ideas on what should happen!
Multimedia
Find downloadable stuff here including sounds, videos, and desktop themes.
Movie Reviews
Reviews for the Scream movies sent in by people like you.
Postcards
Send your online friends and family postcards with pictures from Scream and Scream 2.
Scream Café
Come to the Scream Café and put your feet up! This is the place to relax and talk to other Scream Freaks about the movies.
Links
Links to other sites on the Web related to the Scream trilogy.
Evaluation
Fill out this form to tell us what you really feel about ScreamFreak. You can also tell us what you want us to add. Basically, just feel free to boss us around here. :)
The Person Behind the Mask
Everything you could possibly want to know about the person that runs this website...and more...
ScreamBook
Sign and view the ScreamBook here. Please do NOT include spoilers!
Email
Email the webmaster, Jessica Winn, at myplasticfriends@yahoo.com.
You are Scream Freak #

to enter this site since 21 December 1997!

All pictures, quotes, etc. © 1996-1997 Dimension Films. All text © 1997-1998 Jessica Winn.